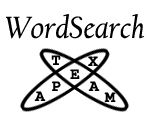 WordSearch - Find-a-Word Puzzles
- by Mandisa Washington
Details: A project that I've been tooling around with for several months, off and on, WordSearch is the first of a set of Java Applet games, in this case, themed Find-a-Word puzzles. The selection of themes will grow, but to start with, there are a few general, science-fiction movie/TV, and anime word lists available. Just pick some options for the puzzle, click "Create", and it pops up in a separate window (if you've got some kind of popup-blocker installed, you might want to disable it). I'm still working on "Print" and "Save" options, so that you can waste... er, spend, even more time doing odd puzzles.