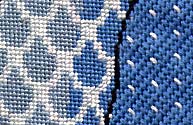 Tent Stitch is the simplest and most versatile needlepoint stitch. Yarn is laid diagonally over a single canvas grid, from lower left to upper right. The stitch may be worked horizontally, vertically, or diagonally, producing the same effect on the right side of the canvas. The different working methods can pull the canvas in different ways, distorting the work over time regardless of stitch tension (how tightly the yarn is pulled over the canvas [More]).
Also of note, the different methods use different amounts of yarn to cover the same area of canvas. Generally speaking, the choice of method depends on the combination of yarn and canvas, as well as the shape and size of pattern area to be filled. In the image at top-right, tent stitch in varying shades (left and center) is used to densely fill a series of interlocking irregular pattern areas. A single curved line of tent in a contrasting color is also used as an outline (just right of center).
To work multiple rows in the Half-Cross and Continental methods, the canvas is turned 180° after each row, so that the top of the pattern is alternately pointing towards or away from you as you work. This also preserves the single working direction while the stitches are being laid back-and-forth (or up-and-down) across the canvas relative to the pattern. Both the Half-Cross and Continental methods work very well for slender shapes, and for irregular areas if worked as small rectangular patches.